This Unique 36 Gemstones and Minerals of the World Set will make a excellent addition to your collection.

The 36 Pieces in this set include the following Amazonite, Amethyst, Aventurine, Obsidian, Blue Lace Agate, Buttermilk Jasper, Carnelian, Dalmatian Dacite, Dumortierite, Fancy Jasper, Fluorite, Gold Stone, Hematite, Howlite, Jadeite, Lapis, Leopard Skin Jasper, Mahogany Obsidian, Moss Agate, Nephrite, Picasso Jasper, Orange Calcite, Pitcher jasper, Rainbow Jasper, Rose Quartz, Rhodonite, Rock Crystal, Rhyolite, Red Jasper, Snow Flake Obsidian, Sodalite, Serpentine, Tiger-eye Stone, Tiger-Iron stone, Turquoise, Unakite.

Each Piece in this set is approximately 10mm x 15mm x 4mm and are placed in a display board with each of them labeled with their name and place of origin and wrapped in plastic to preserve their beauty.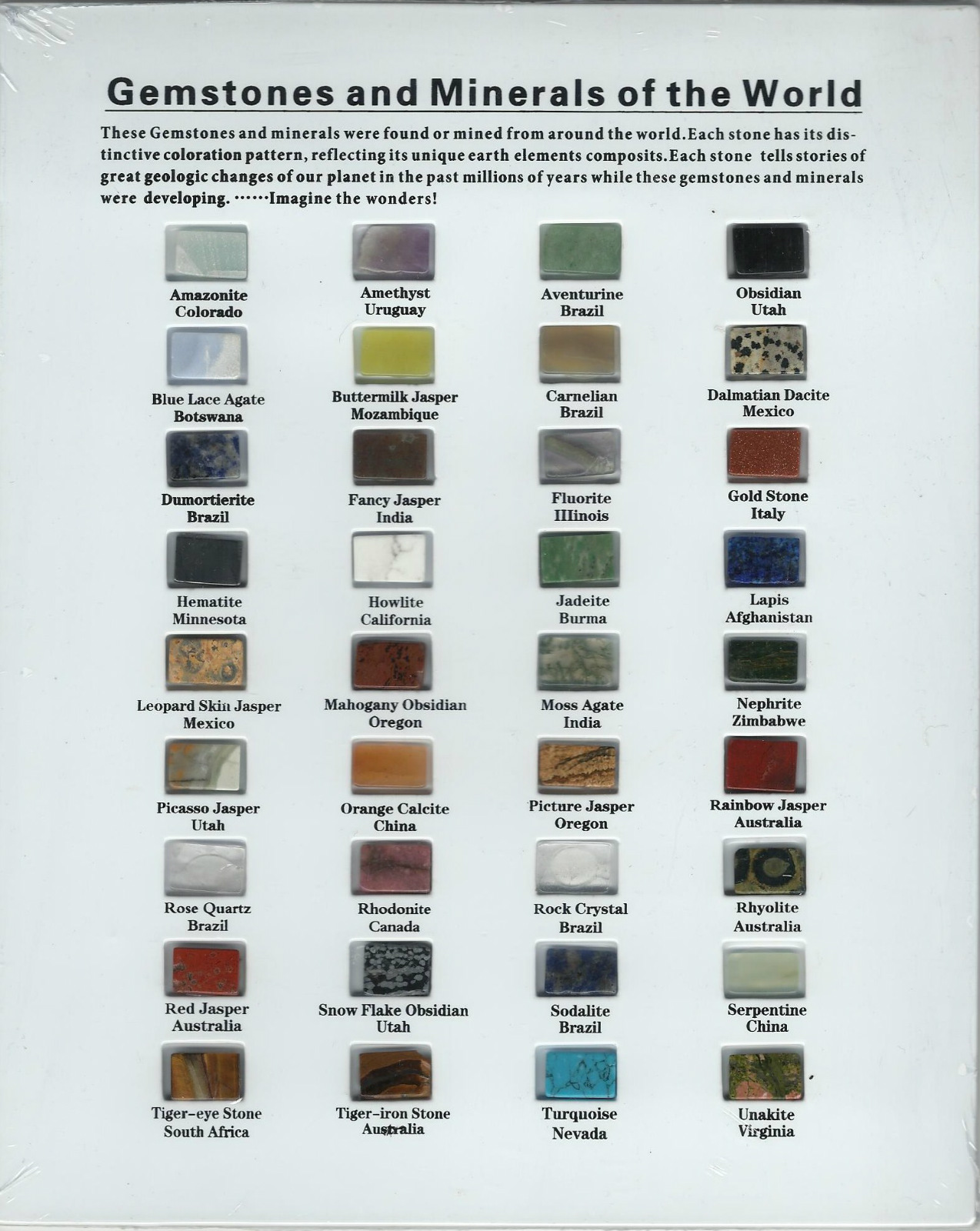 No Waiting 3 to 4 weeks for your order here we stock everything listed here and we never DROP SHIP, Your purchases are shipped the very next business day after your payment has cleared. Most orders arrive within 5 days of purchase

We Ship Anywhere U.S.P.S Priority Mail is Accepted.

We accept Paypal, Cashiers Checks & money orders Mailed VIA U.S.P.S

Returns Accepted within 7 days if purchase remains uncirculated/untouched by human hands, buyer pays shipping costs.

Were not happy unless you are.

If you like what you see please tell a friend if you don't see what your looking for be sure to check back with us regularly we have new items arriving weekly.